If you want to charge higher prices, tell a better story.  So says a recent article in the Harvard Business Review which explores the connection between the price buyers are willing to pay for an item and the story (or lack thereof) that goes along with it.
The article tells of an experiment by New York Times Magazine columnist Rob Walker in which items purchased for next to nothing on eBay were flipped at huge price increases.  The average value of items increased 2700% simply by adding a story.  In this case the stories were written by professional writers and, I gather, were complete fiction, but the lesson is no less valuable.
You don't have to hire a fiction writer to spin lies about your products to create a great story.  It's already there if you look for it.  Why you make what you make, where you make it, how you make it, and why you started making it to begin with are all good material to start with.  If you sell vintage, the items you sell might have a story of their own, but even if they don't there must be a historical "story" of a different time or place when the vintage find was brand new.  Sounds like a story to me.
For a story to work, people have to read it.  Here are a couple of tips that might help with that:
Keep it short – Generally speaking, the fewer words you use to get the key points out, the better.

Use descriptive language – Invoke feelings and senses the pictures of your products can't, such as smell, temperature, texture, taste, and emotion.
Get some editing help – Have a friend or family member read the story and offer feedback. (if it's your spouse you might want to motivate them by sharing that a good story can increase revenue by 2700%)
Don't be afraid – Be willing to tell the story that goes with your item and don't worry about it being a best-seller… you're just trying to give some intrinsic and intangible added-value to the item you're selling.
People shop on Etsy partly because they desperately want a great story.  They want something different than what everyone else has.  They want something that starts conversations and is fun to talk about.  Give it to them and you can increase those prices and start earning what you're worth!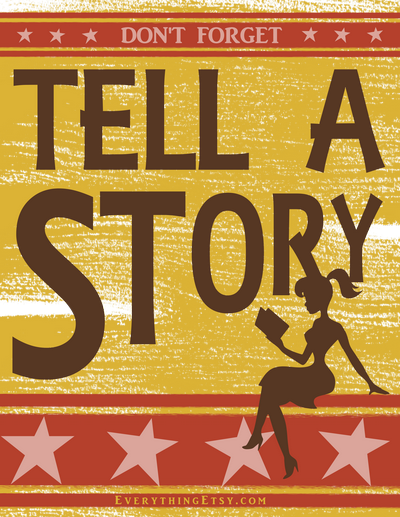 ——
For more reading on telling a story and to download a free printable of the "Don't Forget Tell A Story" image above, check out this post on EverythingEtsy.com